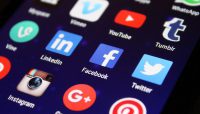 Being a freelance web developer, I often work on websites for start up and small businesses. The topic of social media is always discussed and I sometimes get asked if it is worth having a facebook business page, or a twitter account for their new website. I am definitely no expert in social media, but I can talk about my own experiences and how social media can be a very useful free tool for any business.
As a good starting point, the three main social networks I would recommend for a small business are Facebook, Twitter and Linkedin. I will briefly talk about the advantages of each one and how you can get them to all work together.
Facebook Business Page
I'm sure you don't need me to tell you that Facebook is by far the largest of all the social media tools available to businesses on the market. Its really simple to use and within minutes you can create your own bespoke business page. You can upload your logo and images and the newly added "Cover Picture" and post comments and articles to your timeline. It is a great way to engage with your clients (and potential clients), and to bring a bit of personality and accessibility to your company. The more likes you get, the more people you can engage with, especially if you keep your business page active. It's a great place to put special offers, company news, photos of recent projects and links to various pages of your website. A facebook business page will compliment your new or existing website.
Twitter
Twitter took me a bit of getting used to, but the simplicity of it is truly addictive. Like facebook, it is very unlikely you have not heard of twitter and almost any business you can think of will have a twitter account. Twitter has definitely become more popular in recent years and its another great free tool that your business can take advantage of. The idea behind it is quite simple…If you know anything about facebook, you will know that you can update your status. Twitter is just like that but limits you to 140 characters. You follow people and/or companies that interest you, whilst also keeping an eye out for potential clients that you could market to in the future. The main advantages of having a twitter account for your small business (or any business for that matter) is you can use it to put special offers and links to your website etc… In the same way any social media would work, it keeps your business looking fresh and friendly.
Linkedin
Linkedin is basically like facebook but aimed at business. It has a much more corporate setup and is more geared to having a business profile rather than a personal page like facebook. It has many similar features to facebook. You can have a personal account, make connections (friends, colleagues etc.) and importantly add a business page. Another useful feature includes being able to join business networks. Once a member you can get in contact with lots of local businesses!
Make them all work together
The main concern is the additional time it will take to administer all three social networks. This can be easily minimised by linking all three together. Then if you are busy, all you need to do is spend 10 minutes a month updating your facebook business page. Once all networks are linked, your facebook activity will be tweeted and displayed on your linkedin home page automatically.
To sum up, most social media provides a great free tool for your business and is an easy way to increase your online presence. It's simple to use and once set up correctly it takes up very little of your time. My advice would be to get involved and put links to your facebook, twitter and linkedin account on your website. You might as well, its free!